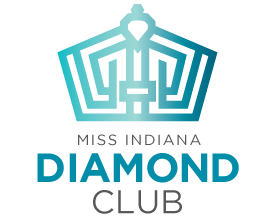 Join the Miss Indiana Diamond Club
The purpose of the Diamond Club is to enlist the support of members of the Miss Indiana and Miss Indiana's Outstanding Teen pageant family, who are willing to contribute $75 each year to provide guaranteed underwriting for the scholarships awarded during the annual competition.
Our goal is to continue to increase the scholarships that we can award to both our Miss and Teen contestants. Our purpose is to raise a significant portion of the more than $35,000 in scholarships we strive to raise each year to support the Miss Indiana Scholarship program. As a member of the Diamond Club, 100% of your donation will be earmarked for scholarship purposes and is, therefore, 100% tax deductible. You will also have your name listed with the "Diamond Club" in our program book with our sincere thanks.
To guarantee your spot on the DIAMOND CLUB page, in the '16 souvenir program book, please make your donation before May 15.  All checks must be made payable to the Indiana Educational Scholarship Fund.
Checks can be mailed to: Miss Indiana Diamond Club, PO Box 40775, Indianapolis, IN 46240
Please accept our sincere appreciation for ensuring the continuing strength of our scholarship program.
2016 Diamond Club Members
Dena and Keith Benham
Vanessa McClary
Lee Ann Happ
Tom Gerber
Freda Luers
Lauren Petersen
Kim Barmes
Nick & Paige Clinkenbeard
Sandy Stephan
Marietta Hite
–In memory of Ron Hite
Aren Straiger
Steve Straiger
Ashley Swathwood
Marni Lemons
BJ and Mindy Scott
Tony & Alison Shull
Steve & Karen Keck
The Family of Jordan Axel
–In memory of Marianna Reick
and Karen Axel
Lisa Ross Todd
Michael Nash
Beth Burkle-Logue
Bryana Bunte
Kasi Jones
Rose McClimans
Barbara Helm
Chloe Anagnos
Courtney Jurick
Alli (Harris) Lee
Linda Zabona Wooster
–In honor of Jody Wooster &
Linda Zabona-Wooster
Jean Putnam
Kim McCutchan
Craig Munk
Karen Munk
Frank Ricketts
John & Barbara Helm
Breanne Tisch
Evan, Jackie & Lucy Sharpley
Carol Kosisko
Cindy Yantis, Miss Indiana '84
Nicole Lynn Plowman, Miss Indiana '09
Lynn Callison, Miss Indiana '67
–In honor of Gerhard O. Haglund
Joni McMechan Checchia, Miss Indiana '88
Julianne (Hackney) Hess, Miss Indiana '98
Kelly Lloyd Hubler, Miss Indiana '99
–In memory of Joy Robbins and Ron Hite
Audra Casterline, Miss Indiana '145
Sara Engerman Church, Miss Indiana '97
Tommye Lou Glaze Beavers, Miss Indiana '60